Study Support for Foreign Pupils
Study support course for foreign pupils at public elementary/junior high schools. Let's attend this couese!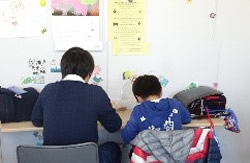 Limited to Children attending public elementary/junior high schools. MIA volunteers help you to study one on one. Explanations in Japanese. You get treated as individual.
Date
Time
Schedule/Capacity/Fee
Sep 5 – Dec 12
15:00-17:00
Every Wed
Elementary/Junior high school students:
10 people, 15 times, ¥4,500 (¥300 × 15 times)
How to sign up for MIA study support course:
If you want to attend the course, please come to MIA by a week before the starting date, to fill in the application form and make necessary payments.
In case you intend to join after the course is started, please do not forget to call MIA first and confirm details.
Inquiries
Musashino International Association (MIA)
SWING 9F, Sakai 2-14-1,Musashino-shi , Tokyo 180-0022
TEL 0422-36-4511 FAX 0422-36-4513
E-mail:
mia@coral.ocn.ne.jp
Open: TUE - SAT 9:00-17:00(Closed on SUN,MON and Public Holidays)