Consultation
Free consultation for Legal & Psychological matters with an Appointment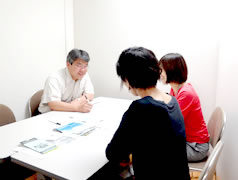 At MIA, lawyers, psychiatrists and other specialists are available to consult with foreign residents who might have legal problems concerning marriage/divorce, visa status, and jobs and who might experience mental health issues such as stress and insomnia. Volunteer members help your consultation as interpreters. We will respect your privacy and preserve confidentiality in all consultations. Please be sure to make an appointment in advance.
Schedule

Oct 27(Sat) 13:00~16:00(Due date of appointment:Oct 20)
Nov 24(Sat) 13:00~16:00(Due date of appointment:Nov 17)
No consultation in Dec.

Available content for consultation
Visa,residence status,jobs,marriage/divorce,inheritance,pension,social insurance,employment,mental health,tax,national health insurance etc.
Capacity in each date of consultation
4 people(first come,first served)
Available time for consultation
30 minutes
Place
Musashino International Association (MIA)
SWING 9F, Sakai 2-14-1,Musashino-shi , Tokyo
1 minute walk from the North exit/the nonowa exit at Musashi-Sakai station,JR Chuo Line
Expense
Free of Charge
How to make a appointment
Please be sure to make an appointment at the MIA office one week before. TEL 0422-56-2922
Please let us know as listed below. You can also come to MIA office to make an appointment.

Your name
Contact information (Telephone number / e-mail address)
What do you want to consult?
What time do you want to consult?
Language request (if the interpretation service is needed)

Language
Interpreters are available in following languages; English, Chinese, Spanish, Korean, Filipino, German, Norwegian, Hindi, Tamil, Russian, Arabic, Indonesian, Thai, Portuguese, Nepali, Myanmar, Bengali and so forth.
Inquiries
Musashino International Association (MIA)
SWING 9F, Sakai 2-14-1,Musashino-shi , Tokyo 180-0022
TEL 0422-56-2922 FAX 0422-36-4513
E-mail:
mia@coral.ocn.ne.jp
Open: TUE - SAT 9:00-17:00(Closed on SUN,MON and Public Holidays)