【Notice】2017/11/12Musashino municipal administration 70th anniversary Musashino International Festival 2017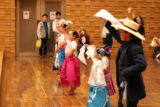 Musashino International Festival 2017"Let's promote Tabunka harmony from Musashisakai" will be held this year! Please feel free to come and enjoy!
Please check Musashino International Festival 2017 Website(Japanese only).(You can also see website by Smartphone.)
https://musashino-ifes.com
Detailed information
Date&Time
NOV 12th (Sun) 11:00~17:00
Place
SWING Bldg. 2・9・10・11F(1 minute walk from the nonowa exit /north exit of JR Chuo line Musashisakai station)
SWING blds. Sakai 2-14-1,Musashino-shi,Tokyo
Contents
SWING 11F『Tabunka Cafe』
Snacks from various countries.

SWING 11F『Musashino local organizations for international cooperation/exchange and MIA』
Panel exhibits & sale of miscellaneous items,Workshop@Tabunka corner

SWING 10F『Tabunka Experience Museum』
Workshops by Foreign Instructor

SWING 9F『Realistic! MIA Experience』
Disaster Management Corner,Community Healthcare Support Group for Foreign Citizens,Japanese Course,Know the World! Let's Communicate with People Worldwide!"- Macedoniaunka

SWING 2F『Tabunka hall』
Parent/Child Participation! Kids Play Club for International Understanding "Let's Play in English with Charles-san!" (Reservation is required in advance),Tabunka Stage

『Children participation Stamp rally』:MIA festival world tour
Fee
Admission Free
Note
Please note that you need to pay participation fee to join some program.
Inquiries
Musashino International Association (MIA)
SWING 9F, Sakai 2-14-1,Musashino-shi , Tokyo 180-0022
TEL 0422-36-4511 FAX 0422-36-4513
E-mail:
mia@coral.ocn.ne.jp
Open: TUE - SAT 9:00-17:00(Closed on SUN,MON and Public Holidays)