2021/7/11 Guidance on High School Entrance for Students & Guardians of Non-Japanese Speakers(Individual consultation)(We cannot accept any applications because of reaching the fixed number.)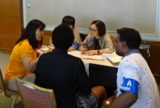 ※We will stop accepting applications soon. If you need interpreter, please call MIA.
Be sure to make a reservation. Those who want to join guidance and consult are requested to read website information in advance.
Japanese
http://www.tokyoguidance.com/singakuguide/
English
http://www.tokyoguidance.com/tokyohighschoolguide/
Chinese
http://www.tokyoguidance.com/chguide/
You can buy guidebook (Japanese・English・Chinese・Tagalog・Thai). 500 yen per book. If you want to buy guidebook, please inform reception staff.
Detailed information
| | |
| --- | --- |
| Date&Time | JULY 11(Sun) Part1 13:00-14:00/Part2 14:30-15:30/Part3 16:00-17:00 ※You can participate in either Part1,Part2 or Part3. |
| Place | SWING 11F Sakai2-14-1(1minute walk from JR chuo line Musashisakai station) |
| Fee | Free of charge |
| Capacity | 15 pairs in each Part(First comes, first served) |
| Topics | Individual consultation on educational matters |
| Interpreters (tentative) | English, Chinese, Korean, Spanish,Filipino, Thai, Nepalese. |
| Application | Appointment required.Apply by Jul 3 (Sat) via phone or the MIA website. |
Inquiries
Musashino International Association (MIA)
SWING 9F, Sakai 2-14-1,Musashino-shi , Tokyo 180-0022
TEL 0422-36-4511 FAX 0422-36-4513
E-mail:
mia@coral.ocn.ne.jp
Open: TUE - SAT 9:00-17:00(Closed on SUN,MON and Public Holidays)