【留学生対象】留学生ファミリープログラム(春の部)参加者募集 "Ryugakusei" Musashino Family Program (Spring)Participants wanted
留学生むさしのファミリープログラム(日本語) https://mia.gr.jp/internationalstudent
"Ryugakusei"Musashino Family Program(English) https://mia.gr.jp/en/internationalstudent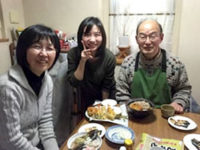 ホームビジット(日帰りの家庭訪問)を中心に留学生と地域の家族が自由に交流するプログラムです。日本語での交流が中心です。対象は、武蔵野市の近郊の短大・大学・大学院の留学生です。交流期間は4月以降9月まで随時~翌年3月の約1年間です。
The main activity of this Program is home visits (day-trips to a local family) and also international student and local family can enjoy communicating in their own way or style. All activities are conducted in Japanese. This program is designed for international students studying at universities in Musashino city and neighborhood. For those who come to Japan in spring, it is from anytime after April to March of the next year.
1.申込み方法 To enroll
亜細亜大学、成蹊大学、東京外国語大学、東京女子大学、東京農工大学の学生は、MIAのホームページで申し込んでください。
Students of Asia University, Seikei University, Tokyo University of Foreign Studies, Tokyo Woman's Christian University and Tokyo University of Agriculture and Engineering can apply on MIA website.
留学生むさしのファミリープログラム申込みフォーム Application form for Ryugakusei musashino family program
2.留学生オリエンテーション、ファミリーとの顔合わせ:4月以降随時
"Orientation for Ryugakusei" "Introductory Meeting" Anytime after April
Inquiries
Musashino International Association (MIA)
SWING 9F, Sakai 2-14-1,Musashino-shi , Tokyo 180-0022
TEL 0422-36-4511 FAX 0422-36-4513
E-mail:
mia@coral.ocn.ne.jp
Open: TUE - SAT 9:00-17:00(Closed on SUN,MON and Public Holidays)